Intersession Week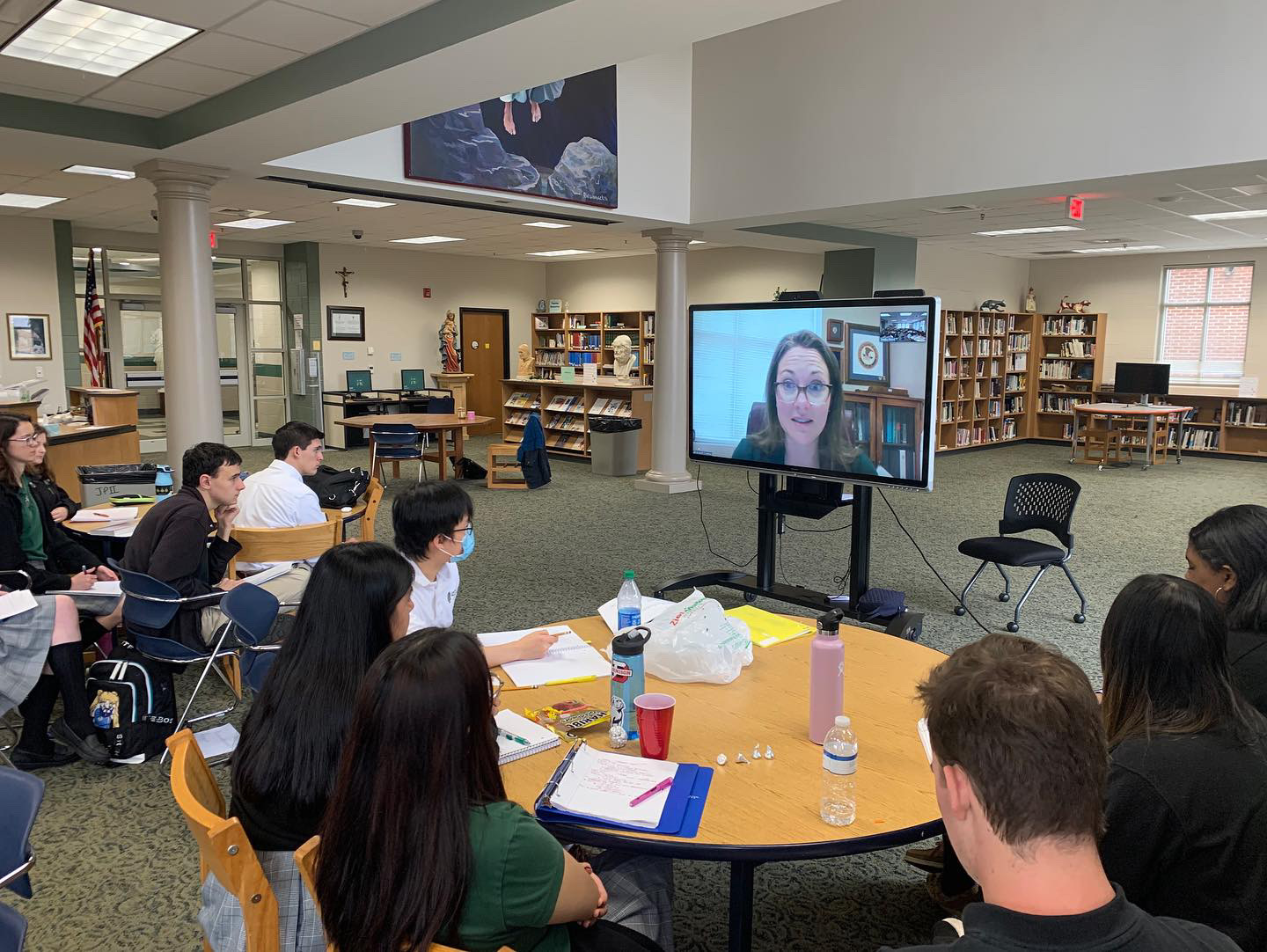 ---
St. John Paul II Catholic High School (JPII) will host several activities during intersession week activities, March 7 – 11, 2022. New this year, JPII has invited distinguished panelist from multiple fields, including: engineering, healthcare, finance, law and public service, fine arts, business, sports, and faith-based careers and vocations to engage with seniors. The revised program was developed due to the nationwide increase in COVID-19 cases at the beginning of 2022.
The JPII seniors will be able to delve into multiple career paths, learn more about educational requirements, advances in these fields, and trends. In addition, our students will discuss how vocations and humanities careers provide meaningful services in our communities.
The panelists will focus on several areas of interest. STEM discussions will be lead by individuals from Agility Robotics, Dynetics, HudsonAlpha, ShapeFidelity and National Ecological Observatory Network; Vanderbilt University Hospital, Twickenham Pediatrics, Crestwood Medical Center, Louisiana Concierge Physical Therapy, Huntsville Hospital, and LSU Health Sciences Center will cover Medicine; from the Finance industry Progress Bank, Progress Financial Services, Colliers International, Southeastern Freight Lines and Melvin Bibb Pinson & Segars; Law & Public Service will be covered by Huntsville City Council representative, the Federal Bureau of Investigation, U.S. Southern District Court of Mississippi, the Western District of Kentucky U.S. Attorney's office, Hexagon, and the Huntsville Police Department; Fine Arts & Business professionals from Re.Li.C., University of Alabama in Huntsville, Northrop Grumman Corporation, Henry & Co., WHNT-TV, Spoiled Rotten Photography, and Fuqua & Partners Architects; the Huntsville Havoc and Xavier University will cover sports marketing, team management and using sports to improve learning. For the faith-based careers and vocations, panelists from St. Vincent Medical Center, Augustine Institute, the Archdiocese of Omaha, FOCUS, the Knights of Columbus, Catholify, the Missionary Friars of the Eternal Word, and the Sister Servants of the Eternal Word in Birmingham.
Panel discussions will last from in length from one hour to an hour and thirty minutes and help the students determine how their passions and skills can be leveraged into future careers. The day will also provide them with assessment tools to determine strengths and career interests allowing students to embark on an adventure of faith, learning and life-changing experiences as they consider their future endeavors.
Seniors Maren Weathers and Alex Niles are both excited to explore their options. Maren said, "I am interested in the biomedical field, but I also want to know more about the business side of medicine. If I have my own practice, I will need to know accounts payables and receivables, inventory management, payroll, and many more details of the business operations. I think having different panelists will give me a much better knowledge base to figure out if private healthcare or hospital/health center careers are best for me." Alex said, "I can't wait to learn more about the field of business, there are so many options and I believe the more information I can acquire, the happier and more successful I'll be in my chosen career. Having leaders in finance, banking, marketing, etc. will allow me to pinpoint the direction I want to take."